Tech
How To Install Deccan Delight On Amazon Fire Stick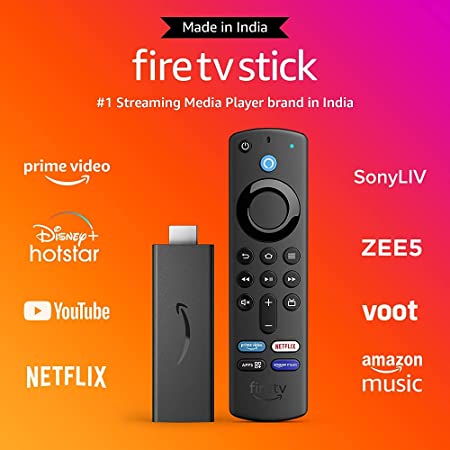 The deccan delight addon on Amazon fire stick is a must-have on Amazon fire stick for some people and you . The Amazon Fire TV Stick is a small streaming device that connects to your television through HDMI. Like other streaming gadgets, the Amazon Fire Stick allows you to view Netflix, Hulu, and other streaming apps.
Are you looking for a way to install and watch deccan delight on your Amazon Fire TV stick? If so, Whitekind.com will take you on a walk-through and outline the steps necessary to install Deccan delight on Amazon Fire Stick. Also, we will give tips on how to get the best performance from the channel. Finally, we will answer all frequently asked questions that you may have about installing Deccan delight on your Amazon Fire TV Stick.
With a Fire Stick, you can view movies and TV shows from Netflix, Hulu, and YouTube, among other popular streaming apps. To unlock new functions, you may also connect your other Amazon smart devices, such as an Amazon Echo.
How to install deccan delight on amazon fire stick
To install deccan delight on amazon fire stick, please follow the under-listed step one after the order.
Requirement
Before proceeding with the installation, please make sure you are on Kodi 18.x Krypton or higher. You're also required to install f4mtester.
Steps
1. Enable Notification and Unknown Source
The first thing to do when you want to install Kodi Addons is to enable notifications and the installation of Unknown Source. We also need to do this thing in firestick when we want to install a 3rd-party app.
You can't install any 3rd-party Add-ons, so we need to enable this option first.
Follow this step to enable unknown sources.
Start Kodi on any device. From Home Screen, click on Settings located near the Power button.
Select the System Settings option located on the left side below.
Click on the Basic and change it to Expert or Advanced from the next screen.
Once toggling it, select Addons from the left panel, and on the right side, click on Unknown Sources.

When you click on it, it will show

you a warning message; kindly click Yes to enable it.
After thorough with this, we have successfully enabled Unknown source on Kodi. And now, you can move toward the next step, which is to install the repository.
2. Install the repository
This step is an important to install deccan delight on amazon fire stick because it is the repository that we install that will allow it to work if you don't know how a repository work, a repository works just like the hard drive where developers store their Addons, Extensions, Builds, Skins, and other things.
Also, the repository for each addon and extension is different. Many repositories are available online, but some are working while some are not still working.
Now let us go back to the steps to install the repository on Kodi:
Open Kodi on Firestick or any other device you are using, and then click on the Gear icon near the Power button.
Click on the File Manager section.

Click on the

Add Source option.
At this time, a window will appear and then click on None-.
You will be asked to type the source URL on the next screen, so type https://i-a-c.github.io and select Ok.
Once typing the source URL, you need to give it any name you want. In my case, it is Exodus, and then clicks the Ok button again.
After adding the source and the name, click OK. You will notice the name appears in the Source section.
Go back to the Home Screen and click on Add–ons from the left panel.

Click on the Package Installer or Box icon

button near Settings on the next screen.
Click on Install from Zip File, when it show several menus
Find the name that you typed in step 6; in my case, it is Exodus when you see a window which appear there.
Click on the repository.exodusredux-.x.x.x.zip (x.x.x stands for the version number that could be different).
Wait for a while until you see the notification saying Exodus Redux Repo Installed.
The Exodus repository has been installed successfully on our device, so we can now move toward the installation process.
3. Install Kodi Addon
When the repository is installed now, we can move towards the last and the main step of this guide. In this section, we must install an Add-on from any repository, and as I said earlier, every Add-on has its repository.
Ok, to install Kodi Addons, you need to follow given below steps:
So, to install the addon, we first need the correct repository. We install it with the addition of a new media source, you can find a tutorial here. The repository name is Reasons Repository  and the address http://a4k.redditreaper.tech/addons/
We hope the tutorial could help you, should you still have difficulties please write it down in the comments below so that we can help you as soon as possible!
Now you can enjoy watching your favorite TV Shows, Movies, or if you are using any other Addon, you can even watch Live TV, Sports, News, and other entertainment.
FAQs
How do I put addons on Amazon Fire Stick?
If you want to add additional functionality to your Amazon Fire Stick, there are some ways to do so. One popular option is to install addons from the Amazon Fire Store. It is a curated selection of optimized applications and games for the Fire Stick. Alternatively, you can install addons from outside the Amazon Fire Store. It is done by searching for and downloading the addon from a third-party website.
Once you have downloaded and installed the addon, you will need to locate it on your Fire Stick. Open the Amazon Fire TV Home screen and select the Apps tab to do this. Then, select the Add-Ons option and select the category of your choice. Scroll down until you find the addon you wish to use and select it. After you have selected the addon, you will need to enter your password to access it. You can then start using the added functionality!
How do you download a crew on firestick?
If you are looking for a way to watch your favorite shows without cable or satellite, then a streaming service like Netflix or Amazon Prime may be the perfect solution for you. However, if you want to watch shows from your local broadcaster, like ABC, CBS, or FOX, you will need a streaming device like a Fire Stick.
To download a crew on firestick, you will need to go to the streaming device's website and sign in. After you have logged in, you will need to click on the "Add a Show" button. From here, you will be able to select the show that you want to watch. Once you have selected the show, you will need to click on the "Download" button. It will take you to a page where you can download the show. Ensure that you have enough storage space on your device, as the show will take up a lot of space.
Conclusion
These are the most straightforward instructions for installing Deccan Delight on an Amazon Fire TV Stick or any other supported device. I've broken down each step so that you won't have any trouble. Aside from that, you can look at the screenshots for each stage.
You can use the same approach for each Add-on, but remember that each repository is unique, and some repositories may have different categories. However, using a VPN is strongly advised because many of them provide copyrighted content that is unlawful.
If you enjoyed this post and want to express your appreciation, please share it with others. You can also give your valuable feedback below to let me know if it was helpful. Furthermore, please leave them in the comments area below if you have any further queries.