Tech
How To Add Birthday Field To Hubspot
A smart approach to remembering your contacts' birthdays and anniversaries is to add a birthday field to HubSpot. HubSpot is the #1 CRM platform for scaling businesses. Access Marketing, Sales, Customer Service, Content Management, and Operations software.
HubSpot's default contact birthday attribute cannot be used correctly in Workflows or other tools as a text field (rather than a date). However, you may use a custom date property anywhere in the system by creating one.
In this post today, you will learn how to add a birthday field to Hubspot with a custom date property.
According to Mike, a Key advisor on Hubspot CRM, he clarified, "Birthday property not a date picker," and here is what he said Birthday property, not a date picker?
The default Date of Birth field in HubSpot is a Text Field that is populated by the Facebook Integration.
The default Date of Birth field is NOT a Date Field.
I recommend creating a new Date Field for your Date of Birth.
Years ago we came across this issue for a client (we're a HubSpot Agency) so we built a Custom hubSpot Integration to handle this issue (and calculate the age of the Contact). 
We've recently learned that the HubSpot Date of Birth will stay as it is for now.
So, we're working on the deployement so we can add our HubSpot Integration into the Marketplace.
We're looking at a way to do a free and paid version (with more features).
If you'd like to learn more please visit Contact Birthday and Automated Contact Age Property HubSpot Integration.
And, we'd love to hear your use cases to help us make our product better."
So for an easier way how to add the birthday field to your Hubspot account, follow the below process
How to create a date property in HubSpot
Click the settings icon in the main navigation bar of your HubSpot account.

Go to Properties in the menu on the left side of the screen.

Click Contact properties under the Select an item drop-down menu.

Click Create property.

Click Next after completing the Object type, Group, and Label fields.
Select Date Picker as the field's type, then click Create.
A custom Date property has been successfully created.
Add a birthday field to the default view.
In HubSpot, you may change the fields that are displayed in the menu of objects on the left.
Every time you open the record, you will see the Birthday field if you add it to the default view.
Click the settings icon in the main navigation bar of your HubSpot account.

Get there by selecting Object => Contacts from the left sidebar menu.

Select the Record customization tab, then click Edit after selecting the Choose properties for the default sidebar option.
To find the Birthday field, use the search bar.

Change its placement in the section if necessary, then click Save.
The default screen for your contacts now includes a new Birthday property that you successfully added.
Create a Center date workflow
Sending automatic emails with greetings is one use case for the Birthday field. The idea is straightforward: HubSpot looks at the current date and, if it matches a property value, takes any necessary action (i.e., Send an email).
Click Create workflow after navigating to Workflows.

Click Start from scratch (1) and select Contact-based (2).

Click Contact date property (3) and choose Birthday (4).
Set up a Delay of your preference on the Workflow page (1). It shows the time at which the process will carry out an activity.

To add an action (2) and configure an option, click the plus sign (3). We choose to Send an email because we want a happy birthday email. Click Save after selecting a pre-written email from the list.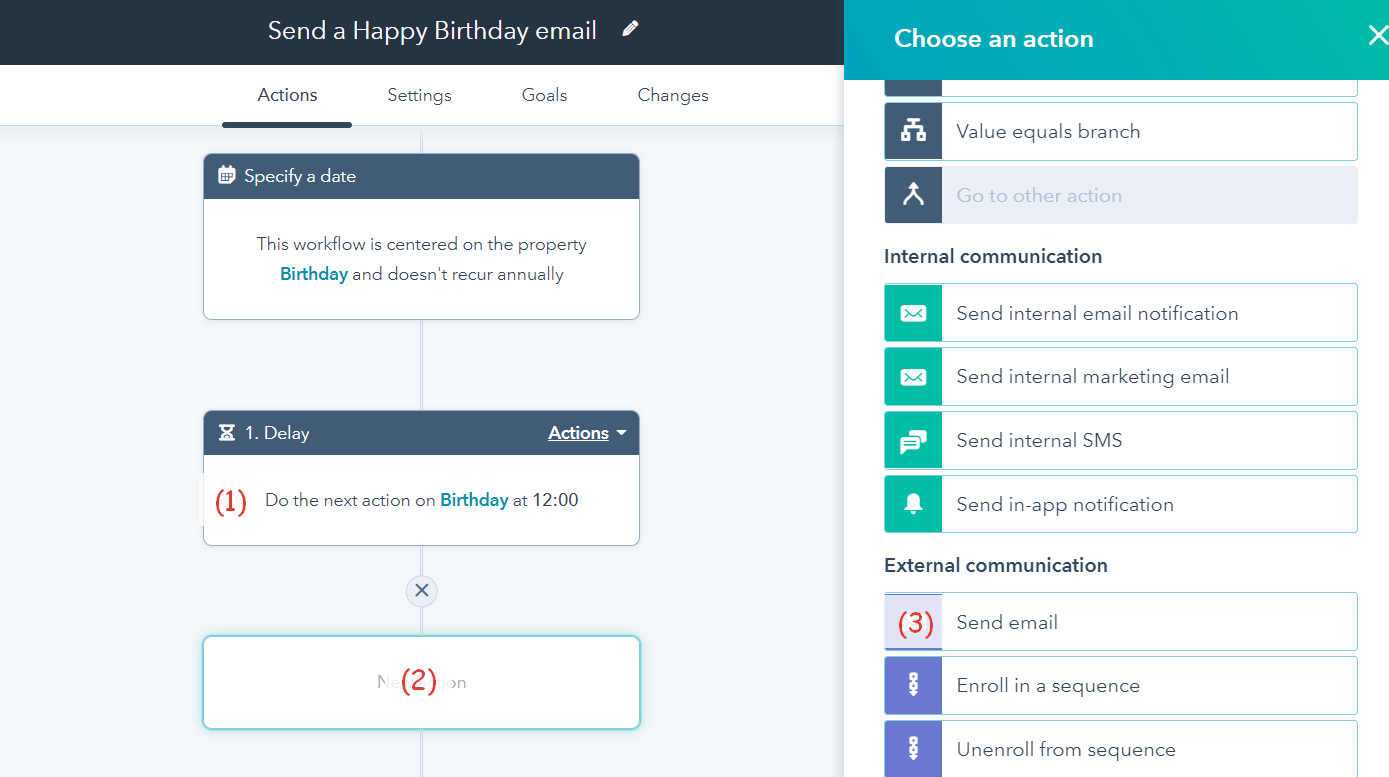 Click Review and publish to review your workflow settings.

Create the Re-enrollment criteria so that the contact will repeatedly re-enroll in the workflow (i.e., multiple years).
Now on each birthday, the contact will receive a Happy Birthday email.
How to send birthday emails automatically with HubSpot
One amazing feature of HubSpot is the number of automation tools available to keep you organized and effective. The ability to set up birthday emails is one automation tool that can be very useful.
The process is quite easy. In HubSpot, you must first create a new contact property. Go to your Contacts Settings and select "Create Property." Click "Create Property" after naming your new property (for example, "Birthday") and setting "Date & time" as the data type.
Go to your Contacts list after creating the new property and put each contact's Birthday. Then, go to your Email settings and create a new email template. The %contact.birthday% merge field in the email template can be used to add each contact's Birthday to the email.
Finally, build a new workflow by visiting your Automation settings. You should create a trigger in the workflow to send the birthday email on each contact's Birthday. If you'd like, you may modify the workflow by adding more conditions and tasks (such as sending a few days later a follow-up email).
Why should your HubSpot account have a birthday field?
You can keep track of when notable events in your life happened by adding a birthday field to your HubSpot account. Additionally, it might be useful for other team members who need to get in touch with you regarding those events.
The birthdate feature can be used to create custom alerts and send messages to your social media followers.
From the Account Settings tab in your HubSpot account, you can access your Birthday. The person whose name, email address, and phone number were added to your Birthday entry can be viewed and changed from this field
As soon as you create the field, your Birthday will be displayed in your HubSpot account.
Conclusion
A great way to remember your contacts' birthdays and anniversaries is to add a birthday field to HubSpot. It is simple to complete and doesn't require much time. Additionally, it's a good method to make your discussions with contacts feel more personal. Try it out right away if you haven't already!