Tech
How To Pause Video On iPhone
The video quality is only one of the tons of features that iPhone and iPad users enjoy about their gadgets. Newer models can compete with certain professional filmmaking equipment; many videos posted by content creators on websites like YouTube and TikTok were shot mostly with an iPhone.
Despite being excellent devices for shooting videos, one big disadvantage of iPhones is their inability to pause and resume videos automatically. You can get past this restriction, though, by downloading third-party apps or making use of other iPhone features, like the Photos slideshow.
Each of the workarounds will be shown to you on whikekind.com with this post. Read on!
Can You Pause Video Recordings using iPhone Camera?
Unfortunately, there is no way to pause or resume recording a video on the iPhone. The users can pause and resume the video recording; however, this is unavailable on the iPhone. Consider that you are in charge of producing a short film or a video. Every time after filming, editing the footage is a difficult and time-consuming process.
The pause and resume features will be useful in these situations. The work of an editor is thereby reduced by these video capturing choices. Despite having many distinctive features, the iPhone cannot still pause and record videos. With the forthcoming updates, we might anticipate seeing this feature introduced to the iPhone. Up until that time, downloading third-party apps from the App Store was the only way to pause and resume video recordings on an iPhone.
Video pause while recording does not exist. However, the pause can be used on recorded video.
Logically it is the same as Stop and Restart.
How To Pause Video On iPhone
While there are many apps to pause videos on the market, only a select few stand out as original and popular. How to pause or resume video recordings on iPhone
1.
PauseCam
PauseCam is one of them. You can pause or resume video recording by downloading the PauseCam app to your iPhone using the instructions below.
Step 1: Go to the App Store on your iPhone and type "PauseCam" into the search field. or you can click here to get it
Step 2: To download the app, tap "GET"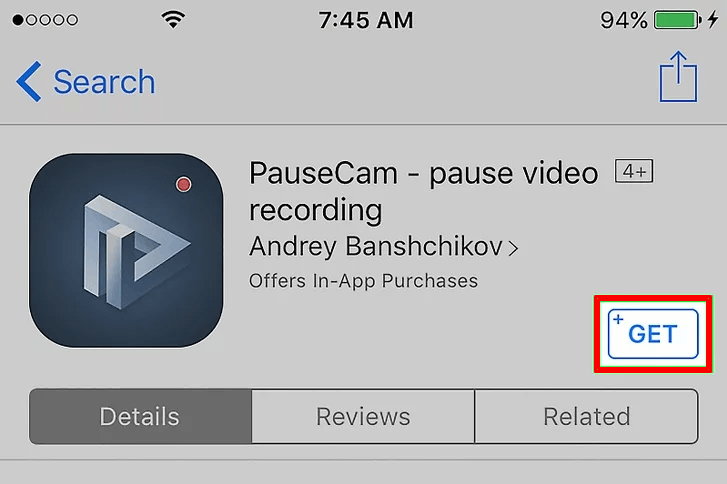 Step 3: Install the PauseCam app.
Step 4: Open the PauseCam application on your iPhone and grant it access to the camera and microphone.
Step 5: A sizable red button may be seen on the app's user interface.
Step 6: Press the red record button to begin the video recording.
Step 7: Click the Pause button at the bottom of the screen to pause the video while it is being recorded.
Step 8: Press the same button one more to launch the recording.
Step 9: Repeat these instructions each time you want to pause or resume recording a video.
Step 10: To save a video, tap the cross mark on the screen's right side; to delete a movie, pick the cross.
Step 11: Select the Share icon found at the top right after touching the tick mark. Your browser will take you to a new screen.
Step 12: Select the video quality. Only a low-quality version of the video can be saved. You should pay to save the video in high resolutions like Original, High, or Medium.
Step 13: The screen shows sharing and saving options after choosing the video quality. Choose the sharing mode beneath the header if you want to show your friends the video.
Step 14: If you want to save the video to your iPhone gallery, select Save in Photos. Otherwise, select More to see all your options for saving the video.
Additionally, PauseCam app provides more helpful features. From your photo gallery, you can upload videos that you can then edit with the app's trimming and editing features. You may use the filters in PauseCam as well. Additionally, it supports multiple social media platforms for simple uploading and downloading, including Facebook, Instagram, YouTube, and cloud services like Evernote and Dropbox.
2. VideoCam+ Pause Video Recorder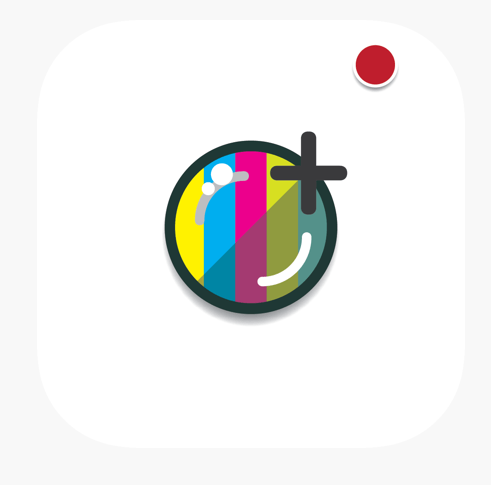 Although VideoCam+ may not be as popular as the PauseCam, it nevertheless serves the purpose of allowing you to pause and resume video recording on your iPhone.
The app includes a watermark on every video made with it, and the only way to get rid of these watermarks is to buy the Pro version. Additionally, just like with the PauseCam, you might see a reduction in the overall video quality.
Therefore, the procedures for using PauseCam and VideoCam+ are nearly the same;
Click here to download the app.

Open it and give it any rights required.

On your screen, there should be a sizable red record button.

To begin recording, tap it.

To pause, tap it one more.

Tap once more to resume recording, and the process does so.

You will notice a right-pointing arrow ("") next to the record/pause button on your screen, which you may click to save your video recording.

When you tap it, a screen where you can save your video recording will open.
3. ClipyCam
With ClipyCam, iPhone users have another choice for quickly pausing and recording videos. You may make short films quickly and effortlessly using this app. The iPhone video recording will automatically pause if you receive a call, thanks to the Call Pause function in the app. You will be able to pick up where you left off with this. In addition, you may take a picture while recording, set timers, arrange photos and movies, etc.
FAQ
Question: Can you pause a video on your iPhone?
Answer: No. On an iPhone, there is no option to pause a video. In other words, you can pause the recording but not pick up where you left off.
Question: How to pause while video recording on iPhone 12?
Answer: On iPhone 12, 13, and any other older devices, you can pause a video while recording by following the instructions provided in the previous paragraph.
Question: How to pause and resume video recording on iPhone 11?
Answer: You may pause and record videos on your iPhone 11 using third-party video recorder apps.
Conclusion
We've reached the end now. To pause your iPhone's video recording, follow the steps above. There are just one of the few ways to use the video recording's pause/resume feature, which is described above. From their initial release, iPhones have advanced over the years and included multiple features. But for some reason, they still lack the basic ability to pause a video recording and resume where you left off without creating two separate files. We will have to rely on third-party applications like PauseCam till then.