Tech
How To Delete A Fandom Account?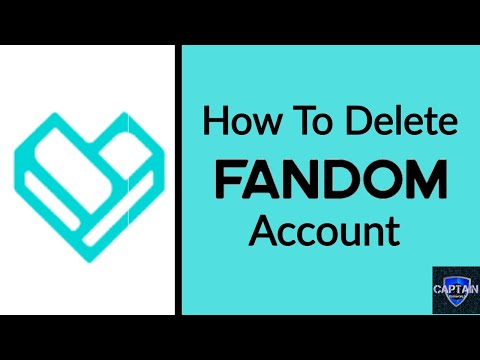 We have provided detailed instructions on how to delete a Fandom account in this post. FANDOM is a global entertainment media company fueled by fan passion. The fan-favorite entertainment portal gives you a place to learn about, contribute to, and celebrate pop culture.
How do I delete my fandom account?
Fandom does not fully delete accounts, they can disable or rename them. Disabling it will ensure the account is locked and can't be used.
This process is NOT reversible after 30 days have passed, and you will have to create a new account if you wish to rejoin Fandom.
This process will not delete your contributions from a given Fandom community, as these contributions belong to the community as a whole
How to delete a Fandom account
Firstly login your Fandom account in your browser
Go to Special:CloseMyAccount by following this link https://community.fandom.com/wiki/Special:CloseMyAccount
Read the information at the top of the disabling page to verify that you mean to permanently close your account.
If you are sure that you want to disable your account, click the option saying you have read this page and the option confirming you want your account disabled.
Click the Close my account button. You will be automatically logged out of your account.
At this point, you will have 30 days to log into your account again and reverse the process. After this deadline expires, your account will be permanently closed and you will no longer be able to reactivate it. Note that usernames associated with permanently disabled Fandom accounts are not vacated and therefore not reusable.
Again, after 30 days, the change is permanent and profile contents are wiped automatically.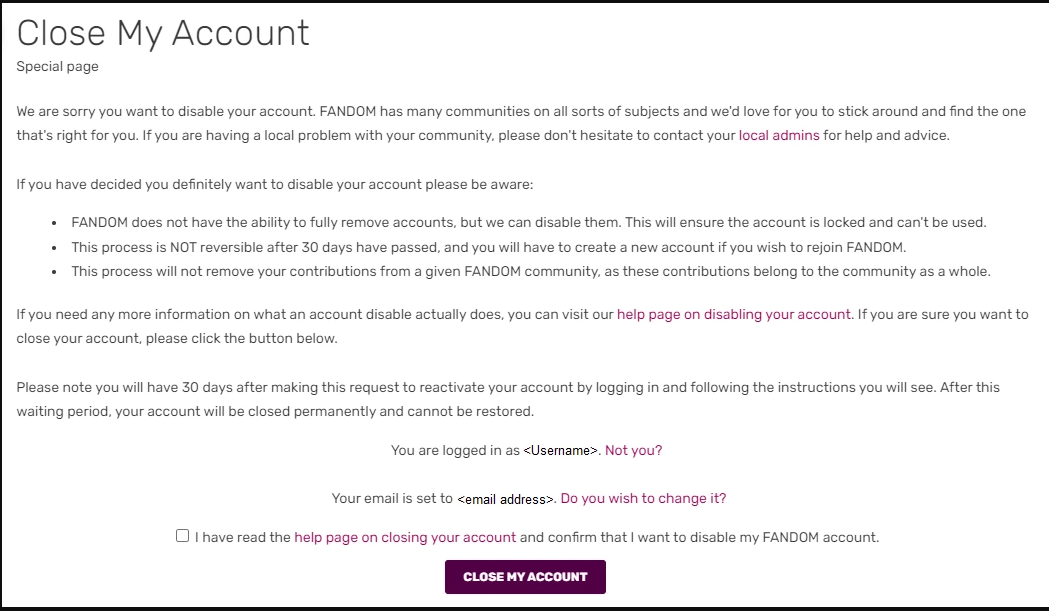 How to cancel a request
The Reactivate my account form when signing back in during the 30-day grace period before UCP was submitted.
If you decide you want to reverse your decision:
Simply log in to your account within 30 days of disabling your account with your usual login details. Once you click the link above (close my account) it does the opposite, you will be sent to "reactivate my account" instead.
Click the Reactivate my account button.
Upon clicking the following button, you will receive a confirmation email at the email associated with your account.
To complete the reactivation, click the link in your email.


What closing an account means
According to Fandom help page, Closing an account is always available through a dedicated special page. Once you choose to close your account, the following happens:
Your password will be scrambled into random gibberish, or will be deleted.
If set, the name displayed on your account alongside your username is set to Account disabled.
Your avatar picture is deleted and replaced with one of the default avatar pictures.
Your account is marked as disabled on Special:Contributions and other Special pages.
Your contributions (and activity) will be prefaced with a notice that reads "This account has been disabled globally by user choice, or by Fandom." The words "user choice" link to this page.
What closing an account does not do:
Remove your username from any edit histories.
Remove your username from any logs (such as blocks).
Delete any pages you have created.
Remove any edits you have made to any page.
Release the name for another user to use later.
Close the wiki(s) that you have founded.
Final thought
You can  learn how to delete a fandom account if you want to leave Fandom. Before doing so, you might wish to leave a message on your user and user talk pages/message wall to let other community members know you've departed. You can also opt-out of receiving Fandom emails by simply deleting your email preferences.
Before leaving Fandom or cancelling your account, it's good to promote another user if you have rights. Go to Special: UserActivity and verify which wikis you are now a bureaucrat on, then utilize Special: UserRights to make another user a bureaucrat.
You can also choose to create a new password for the account that is intentionally hard to remember. Together with removing the link to your email, it will have the same effect as cancelling your account.