Tech
How To Uninstall Nova Launcher On Android (5 Easy Ways)
Nova Launcher is a powerful and flexible app for Android phones that can be used as a Launcher. It has many advanced features that you can use to make your home screens look how you want. If Nova Launcher is set as your phone's default app, you might not be able to uninstall it immediately. You may have noticed that the app's settings turn off the button to uninstall the app.
You can get rid of the Nova Launcher app on your android phone in a few different ways. You can also set your phone back to the Launcher with it. Now let's talk about the first way on how to uninstall nova launcher on android
1. Uninstall Nova Launcher from the settings
You must first remove Nova Launcher from the default launcher app before you can uninstall it from your phone's settings. You can disable the app's default actions by selecting a setting in the app's settings. Here are some instructions:
First, launch the Settings app from your app drawer.

Now select Apps from the menu.

From the list of apps that are shown on your screen, select the Nova Launcher app and launch it. You may immediately locate it by going to the N alphabet.
Now that the Nova Launcher has been set as your default home app, the Uninstall button is disabled. First, select "Set as default" from the list of options in the app's settings to delete it.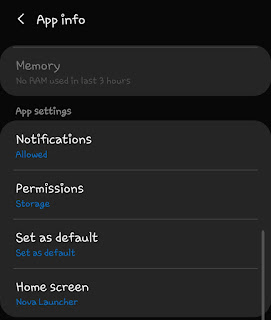 Click the "Clear defaults" option after that.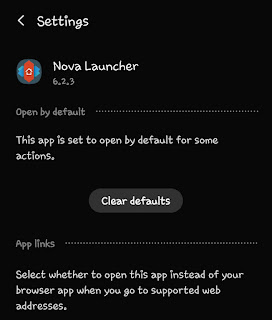 You can stop at this stage if all you want to do is remove the Nova Launcher app from your phone's default home app. If not, proceed to step 6 to uninstall it.
You can notice the "Uninstall" button has been enabled by returning to the main app info page. Click on it and then hit the OK button to take action. That's it.
2. Uninstall Nova Launcher from Play Store
Even if the Nova Launcher app has been chosen as your default home app, you can still uninstall it from the Google Play Store. You can uninstall an app from your phone using the uninstall option in the Google Play Store.
First, locate the Nova Launcher application on the Google Play Store (search it from the search bar). After that, enter the app page and select "Uninstall" from the menu. A pop-up box will appear asking you to confirm your action. Just click the OK button.
The default home (UI) app will be instantly restored to your phone if you uninstall the Nova Launcher app while running on your device.
3. Uninstall Nova Launcher with
Direct Method
The simplest way to uninstall Nova Launcher is in this approach. There isn't much work involved in it—long-press on Nova Launcher to delete it entirely from your phone.
To do this, long-press the nova launcher in the app drawer (where all of the apps on your phone are shown) after it has opened. You will see the uninstall symbol if you press long. Press it to delete Nova Launcher from your phone.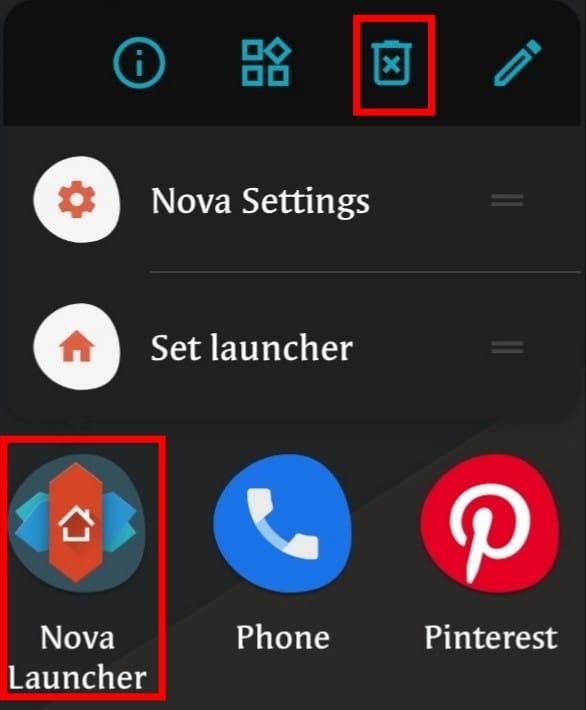 Quick way:
Long-press on Nova Launcher in the App Drawer

Tap the Uninstall icon.
4. Uninstall Nova Launcher through Search
This method might be more straightforward for you. This is for those who don't want to work hard and are lazy. To do this, open the app drawer on your phone. A search bar will appear at the top as soon as it does, and a list of your phone's installed apps will show below it.
Now you need to type "Nova Launcher" into the search field; after you do, the app's icon will appear; long-press on it. After that, it will present you with three to four options, one of which is to uninstall the program. You can quickly remove Nova Launcher from your phone by selecting the Uninstall option and clicking OK.
Quick way:
Open the app drawer, then look for Nova Launcher.

Long-Press the Nova Launcher button.

Click the Uninstall Icon, then select OK.
5. Uninstall Nova Launcher in safe mode
This approach removes the Nova Launcher app from your phone using Android's safe mode functionality. We won't advise you to use this method because it is a little time-consuming and technical, but we are still sharing it with you for informational purposes.
The safe mode function will enable all your installed third-party apps while launching your Android device with the original OS and pre-loaded apps. You may delete the Nova Launcher app from your phone once you've entered safe mode. How To Uninstall Riot Client (2 Best Methods)
Press and hold the power button on your phone to activate the safe mode. You will then be asked to enter safe mode after tapping and holding the power off button on the screen for a short period. Select "Safe mode" from the menu.
Upon rebooting, unlock your phone and navigate to Settings > Apps > Nova Launcher. After selecting the "Uninstall" button, click OK to confirm. You've succeeded!
FAQs
What is Nova Launcher?
The customizable Nova Launcher replaces the stock Android launcher and offers many helpful features.
Why can't I uninstall it?
If you have activated any special third-party launcher feature in the stock Android launcher (such as the unread count), you might not be able to uninstall Nova Launcher.
Why is Nova Launcher not launching?
With specific Android devices, there can be a compatibility problem.
Why am I not able to uninstall Nova Launcher?
Your device might not be compatible with Nova Launcher. Before deleting Nova Launcher, we advise you to try a different launcher, such as the default Android launcher.
After uninstalling Nova Launcher, can I go back to using it again?
You can return at any time if you delete Nova Launcher. If you didn't initially back up your Nova data, you could lose some of it if you use Nova Launcher again. Because of this, it's crucial to backup your data before deleting anything. As we indicated before, Nova itself offers a simple method for you to perform backups.
If you don't like Nova Launcher, you have other options for customizing your Android launcher experience. The most effective alternative to Nova Launcher that Microsoft Launcher has is. Like Nova, it is free and includes many modern features.
Conclusion
There are numerous ways to uninstall Nova Launcher from your android phone. However, you should be careful when doing it. Especially if you use an old Android smartphone with an old Android operating system, please share your thoughts in the comment section below.